As aquariums have become more and more popular over the years, the design and form for aquarium displays have come a long way. No longer are we limited to the more traditional 10-gallon stands that are more or less just a simplistically framed table height.
These days the displays that we use, can look as though they were made to be part of a matching living room furniture set. Some of these displays have ornate, artistic designs that help to draw the eye towards the aquarium. They could even have a form and function of their own that allows them to have more uses than just that of a display stand.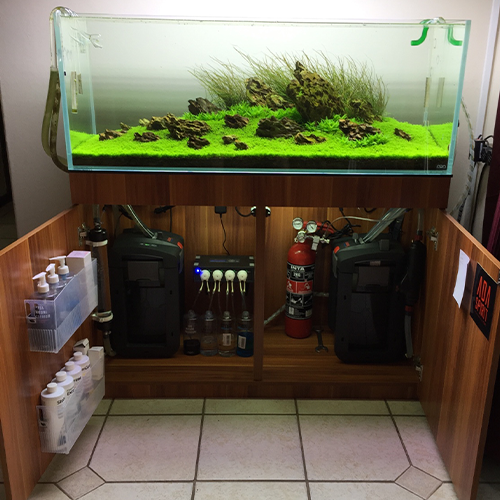 ---
Choosing the Right Design For You
Picking the right display unit for your needs is an easy thing to do, yet it can also take some serious foresight. The average 10-gallon tank is rectangular in shape, with dimensions of 20″ x 10″ x 12″. This description and measurements will not apply to all 10-gallon tanks. So first things first, you'll need to make sure you know the dimensions of your tank.
The size and shape of your tank is one thing, but there are many other things that need to be considered when choosing the right display unit for your aquarium. Here are some of the obvious questions that you'll want to ask yourself when looking at a unit you have in mind:
Can it support the weight of your aquarium?
Is it large enough to cover the dimensions of the tank's base?
Do you want to see the whole tank, or do you want the base and/or top concealed?
Will it be functional for your aquarium setup, and give you access for cleaning and feeding your fish?
Does it have somewhere for you to store the dry equipment, food, or water testing products?
Would you mind if stored items are out on display for everyone to see?
Will you need separate fittings for your lights?
Does it have a ventilation slot, or will I need to use an appropriate self-leveling mat to help with perspiration on the underside of your tank?
These questions are not the only thing you need to know. There are many other things that you may want to take into consideration before you buy.
This can be as simple as what is the clearance area of where you want the tank. This would not be specifically related to just the floor space. What about the location of the window(s), or the overhang from nearby benchtops or light stands.
Here are some more important factors that you may want to take into consideration well:
Will the size and shape of the unit make it hard to clean around the area that you want to put it?
Is the color and design of the unit suitable enough to match the rest of the decor for the room?
Do you only intend on using it to display your aquarium, or do you want it to have other uses as well?
Will you be able to assemble or position the display unit on your own?
Here Is The Most Important Question to Ask Yourself
What are the chances that you may want to expand upon the size of your aquarium in the future?
This is arguably the most important question one should be asking themselves before spending any money setting up their aquarium. This is because the size or design of the display unit you buy now, could lock you in at 10-gallon sized tanks; or it could be suitable for use with a large aquarium later on down the track.
Starting off with a 10-gallon tank is a good first step for many new aquarium enthusiasts. It gives you time to get used to managing and developing the skills that are needed to maintain a healthy and thriving aquarium.
Yet this doesn't mean that everything you use within your aquarium should be suited only for a 10-gallon tank. If there is even the slightest of chances that you may want to upgrade your tank size in the future or even start a 2nd 10-gallon aquarium, then you can save yourself some money in the long run by preparing for it now.
By considering a display unit that is designed to support the weight of a larger aquarium system or one that has a large flat surface, it can allow you to expand upon the size of your system when you are ready to do so.
---
Different Styles of Display Stands
With the dimensions of your tank and a use and style in mind, let us get down to business and see what styles of stands and cabinets are available on the market place for 10-gallon aquariums.
There are 2 main variations for use to choose from, the humble Display Stand, or the more furniture orientated Cabinet Systems. Both styles have their own strengths and weaknesses.
Display Stands
Display stands are lighter and can take up much less room than their Cabinet counterparts. Where they falter is with their limited use. Most display stands lack additional storage capabilities and functions. Display stands can be more like a high table, with four sturdy legs, or box frame sides supporting the weight. Other display stands may have a base shelf or braces down near the feet, or a shelf that is just under the tabletop, or about halfway down.
Cabinet Systems
Cabinet systems are more like actual pieces of furniture. A good unit will have somewhere for you to feed to power cords, hoses, and cables into the cabinet area, allowing for you to hide the pumps and motors out of sight. They can even have additional storage cabinets or draws, allowing you to use the unit to store other, non-aquarium related, items. The biggest issue with cabinet systems is that they can be larger, bulkier, and heavier to move around when compared to a display stand.
---
Aquarium Display Stands
The truth of the matter is, a simple high table with sturdy legs or side frames will work just as well as a purpose-built aquarium stand. Just be sure to have it recoated with water resistance sealant, and avoid using one that is poorly constructed. If the legs or tabletop are too flexible or flimsy, they may give way under the weight of the aquarium, dropping your system onto the floor.
1) Aqueon, Forge Aquarium Stand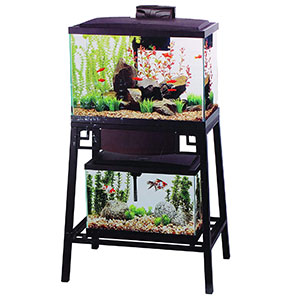 Available in 2 tank sizes 20″ x 10″, and 24″ x 12″.
These stands are capable of displaying a second, smaller, tank on the bottom shelf as well.
Comes ship as a flat pack, assembly required.

---
2) Aquatic Fundamentals, 10 Gallon Aquarium Stand
The powder-coated framework is moister and rust-resistant.
Available in 2 colors, black, and grey.
Elegant vein scrolls adorn the sides of the stand.
It comes as a flatpack but is easily assembled.
This sort of stand is made to support a 20.5″ x 10.5″ tank. However, it has no side protection to hold the tank in place and the top is only a frame with no center support. What this means, is that the tank could theoretically be pushed off the supports if people, namely kids, aren't careful.
We would not recommend placing a second tank on the bottom shelf.

---
3) Aquatic Fundamentals, 10/20 Gallon Aquarium Stand with Shelf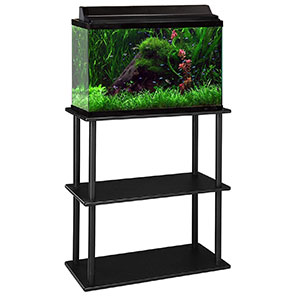 Made from moister resistant powder-coated steel.
This display stand stands at just under 18″ tall.
The midlevel shelf can be used to store equipment and fish food, keeping them in an easy to access location.
The midlevel shelf can also be used to support another 5-8 gallon tank.
Comes as a flat pack, needs to be assembled.
If you want to have a second10-gallon tank, it would be better to use the bottom shelf. This will avoid making the stand top-heavy, but it may not leave enough room for you to access the tank for cleaning.

---
4) Imagitarium, Brooklyn Metal Tank Stand
Sturdy metal tubing and solid welds give this stand an industrial look to it.
Four adjustable feet make it easy to level the unit.
If the tank was to be accidentally knocked or pushed back, the 2 center bracing bars can still support the tank. This vastly lowers the risk of the tank falling down the middle of the stand.
This particular unit appears to be from a mass-production factory. As such there may be issues with parts not aligning correctly.
If there are any edges that form along the joins at the top, you may need to use a self-leveling mat, or a thick piece of plywood to avoid applying unwanted pressure to the underside of your tank.
The bottom 3 struts are not part of a shelf. They are braces meant to hold the lower part of the frame together. If you do decide to use it as a shelf, you'll need to only store light products on there.

---
Aquarium Cabinet Systems
Aquarium cabinet systems tend to have a more sturdy and robust construction to them. They can be used to enhance the room's decor, as additional storage space, or even to display your nick-nacks and collectibles. By intent, many of these display units are designed to be usable for both 10-gallon and 20-gallon aquariums. The weight of the aquarium is held up by the solid sides and/or framework of the cabinet, which is then evenly distributed throughout the feet or base. So if you have an old entertainment unit that's in good condition, you can give it a good coat of water-resistant sealant, and you're right to go. If the unit is a wide one, you may need to attach some extra feet supports in the middle to help prevent any sagging that may occur.
1) Sauder, 110 Gallon Aquarium Stand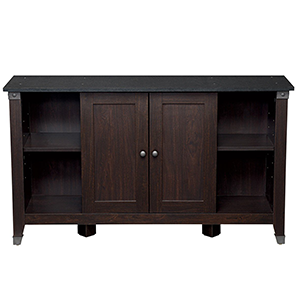 This is a perfect example of using an oversized display unit to grow into.
Even though a 10-gallon tank can look small on this particular unit, you can use the extra bench space to display ornaments and figurines, alongside your aquarium.
The cabinet doors can be used to hide equipment out of sight.
The extra shelving at both ends of the unit are adjustable and can be used to store books or as a display shelf.

---
2) Ameriwood, Aquarium Stand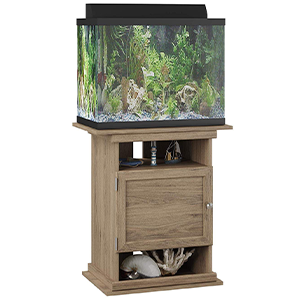 Similar in shape and size to a common side table, this aquarium stand is capable of supporting up to 240lbs.
The uniquely positioned cabinet sits in the middle of the stand, which helps to keep your equipment within arms reach.
This design does have one major inconvenience. With the shelf positioned in the center of the stand, it makes the cavities very short in height. What this does, is that it limits the type of items that can be stored in them.
You will need to assemble the unit as it will be delivered as a flat pack.

---
3) Ameriwood, Home Cove Aquarium Stand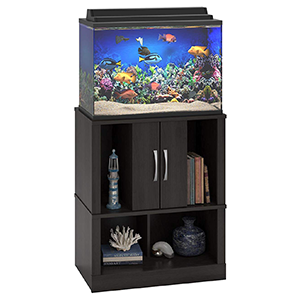 The Home Cove can be used to display a 10-20 gallon tank.
A good example of a multicompartment aquarium display, with a small central cabinet that is great for concealing your equipment.
This particular unit has serval cavities that can be used to display or store your items.
It comes as a flat pack and does require some assembly

---
4) Aquatic Fundamentals, Gallon Aquarium Stand with Cabinet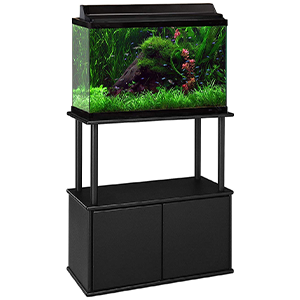 A nice stand and cabinet combination that can support 2 10-gallon aquariums; one on top of the shelf the other on top of the cabinet.
The cabinet is large enough to store lots of equipment or to even be used to hide a sump tank.
We would not recommend placing a 20-gallon tank on the top shelf. Some of the reviews we've read have not shown much confidence in their structural design. It may be risky to use a 20-gallon tank on the top shelf.
There will be some assembly needed as this unit comes in a flat pack.

---
5) Imagitarium, Faux Woodgrain Fish Tank Stand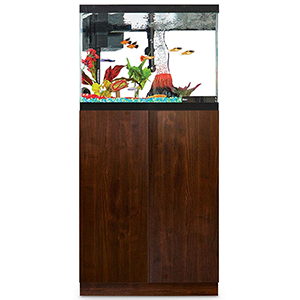 Looking for a clean and professional-looking display unit for your office or studio? Then this sleek and contemporary design might just be the unit for you.
2 large cabinet doors conceal a shelved storage area that can allow you to separate your equipment.
The storage area is large enough for you to hide a sump tank along with your equipment.

---
Final Thoughts
Using the right display unit comes down to both personal choice and suitability. As you can see, finding a stand or cabinet that has been made just for a 10-gallon tank, can be rather difficult. Most units that are available have been made to suit both 10 and 20-gallon aquariums.
If you see a style you like but it's either too big, too small, or if there are things that just don't quite make it ideal; maybe look into having a custom-built unit instead. Some pet and aquarium stores can offer you the service. Others may know a local contractor that they use and will be happy to recommend them to you.