If you are just starting out in the aquarium hobby or looking for a new fish tank that's on the smaller side, then take a look at the large range of 3-gallon fish tanks that are available on the market these days. These tanks can come in all different shapes and styles, but they are all designed to hold 3-gallons of water. So which would be the right one for you and your little betta fish?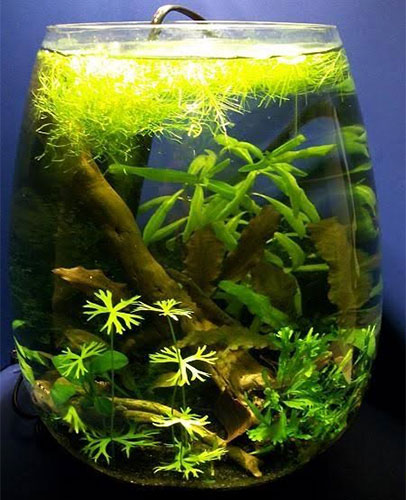 ---
Choosing the Right Tank
Let's be honest here. You've probably read or heard from somewhere, that a 3-gallon tank is far too small for a bettas fish, right? While it's true that there are many betta fish carers out there that are not fans of the 3-gallon tank; 2.5-3.5 gallon tanks still remain the smallest sized tanks that we could recommend to house your betta.
Some of the concerns relate to those worrying about the amount of room that the betta has to swim around in. A tall, narrow cylinder-shaped tank will hold just as much water as a short, wider tank of the same volume. Even though both tanks can theoretically hold the same volume of water, the shorter, wider tank can actually provide a lot more room for the fish to swim around in. This is because betta fish like to swim around near the top of the aquarium, and are happier swimming around in shallower water, then deeper water.
So if you are serious about setting yourself up a smaller 3-gallon sized aquarium, be sure to look for one that has enough width and length to provide your betta with the room they need to move around in. Most shallow 3-gallon tanks with a water depth of as little as 6-8 inches need to be custom made. A good-sized commercial tank will have a height of between 10 and12 inches. Anything over 12 inches, and you start to lose length and/or width, making the water levels deeper, which is not favorable for bettas. Having a 14″ heigh 3-gallon tank will be wasted on your betta fish.
---
Decor and Aquascape
One thing that a lot of people overlook, is the type, and amount of decor that they'll be using as part of their aquascape. All materials, hardscape, or objects that you put into the tank, will reduce the actual volume of water that can fit within the tank itself. So if you are planning on decorating your aquarium with an aquascape, we would recommend looking for a 3.5-gallon tank, as opposed to something closer to a 2.5 or 3-gallon tank.
For information on aquascaping ideas, from minimalistic to detailed scaping, please have a read of our decoration articles:
---
Do 3 Gallon Tanks Need Heaters and Filters?
All aquariums, regardless of size, need to have a means for maintaining a healthy environment for your betta. This means that you may require a heater, an air pump with an air stone, and some form of filtration system. When keeping your fish in a smaller volume of water, there is a greater ratio of fish waste to water. As such, you will need to perform more frequent water changes or use an oversized filtration system, to help remove as much ammonia and nitrogen as possible.
For more information on water changes, and how to set up an aquarium, please have a read of the following articles:
---
Best 2.6 – 2.9 Gallon Tanks
There are a few tanks that fall just shy of 3 gallons. Using these smaller tanks with a more minimalist design will often yield the same volume as a standard 3-gallon tank that has some medium-sized rocks or objects added for decor.
1) Fluval, Spec III Aquarium Kit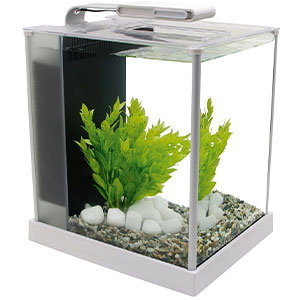 This 2.6-gallon contemporary-looking aquarium designed for small areas such as desktops and countertops.
Made of etched-glass with aluminum trim, this compact unit comes with a 31 lamp LED that overhangs the tank. It also has a built-in 3-stage filtration system that can be found on the backside of the tank.

2) Hagen, Marina 360-Degree Aquarium Starter Kit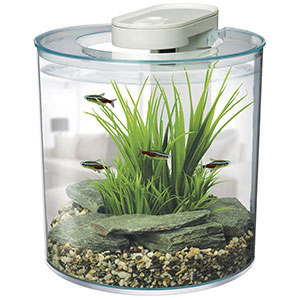 This small 2.6-gallon cylindrical tank offers an almost 360° point of view of your betta.
The housing unit on the back of the unit contains a pump, filter, and LED light, all of which can be removable for cleaning and maintenance. If you require a heater, there is an optional attachment that can also be installed into the housing unit.

3) Penn Plax, Vertex Desktop Aquarium Kit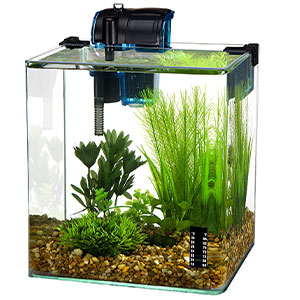 Utilizing a bent glass, frameless design, this 2.7-gallon tank comes with a hinged lid. It also includes a hanging water filter, a digital water thermometer, and a fishnet. The frameless design allows for a seamless view of your betta from multiple angles.

---
3 Gallon Aquarium Tank Designs
There are several different 3-gallon tank designs for you to choose from. Each of the designs offer a different point of view, style or shape that could be used to match your house decor. Remember to keep your aquarium decor and aquascaping to a minimum, so as to avoid reducing the water volume too much.
1) Koller Products, 3-Gallon Fish Bowl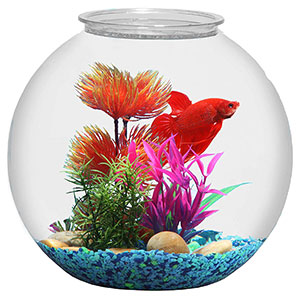 There's nothing more simplistic than the traditional fishbowl. The most difficult thing about fish bows is keeping any external equipment, such as filters, heaters, or air pump cords, tubes, or connections hidden. They can also be tricky to aquascape effectively if you don't know how to take advantage of their shape and unique points of view.

2) MarineLand, Contour Glass Aquarium Kit with Rail Light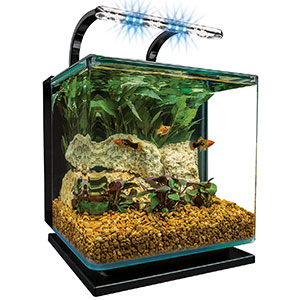 This particular unit comes with its own desk stand and light. The stand allows you to keep the tank up off the surface of the desk, thus preventing any moisture damage from occurring. The light also allows you to not only switch it on or off, but to also use both day and night settings. The other advantage that this unit has, is that the 3 stage filtration system is concealed in the back of the unit.

3) MarineLand, Silhouette Glass 3 Gallon LED Aquarium Kit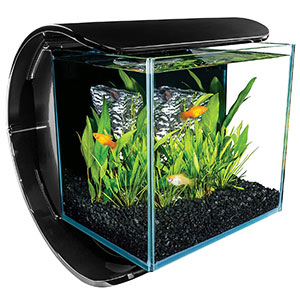 Like so many other MarineLand aquariums, there is a built-in, 3 stage filtration system that is hidden in the back of the unit.
What makes this aquarium different from so many other units, is the unique stand/housing that it comes with. With a flip-down, lift up lid that houses the day/night LED lights, this particular aquarium has a rather slick design and is quite stylish, if I may say so myself.

4) Pisces, AquaTop Curved Bowfront 3 Gallon Aquarium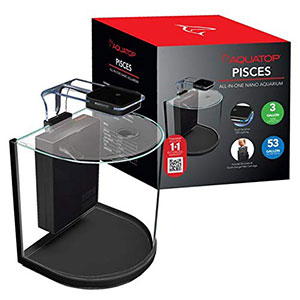 Do you like the look of a round tank/bowl, but don't have the desk space to display them? Maybe consider using a half-moon style curved/bowfront tank.
Units like this have a flat back that allows them to be pushed up against a flat surface like a wall, or the back of a bookshelf while providing a clear view of the betta through curved glass.

5) Aqueon, LED Tri-Scape Starter Aquarium Kit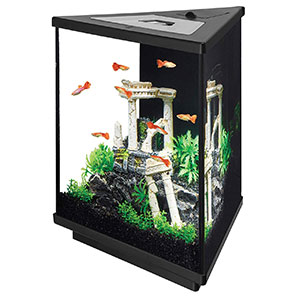 For those of you who would like to put their aquarium in the corner of the room, but find the shape of a rectangle tank off-putting, then this might just be the tank for you.
The triangular design of this type of aquarium makes them ideal for use as a corner centerpiece.

---
Tanks That Are Slightly Larger than 3 Gallons
If you really want to have a 3-gallon aquarium, but would also like to decorate your aquarium with some aquascaping ideas, then we would suggest using one of the following tanks.
1) Penn Plax, Curved Corner Glass Aquarium Kit
A nice and simplistic, curve corned 3.4-gallon tank. This unit comes complete with a cascade internal filter, LED light, mat, and hinge style plastic lid.
The additional 0.4-gallons will allow you to offset a small amount of aquascaping material.

2) Koller Products, AquaTunes Aquarium Sleep Sound Machine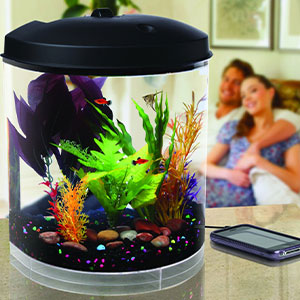 At 3.5-gallons, this particular half-moon tank comes with a rather unique feature. Along with the built-in filtration system and 7 color LED lighting; it also comes with a hidden set of speakers and prerecord sounds from nature.
With the right combination of micro aquascaping, lighting and soundtrack, you might just find yourself sleeping soundly.

3) Joyfay, Aquaponic Fish Tank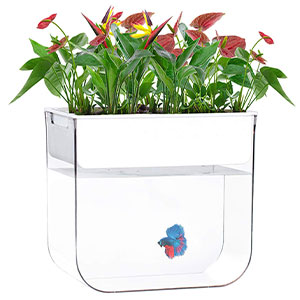 Taking advantage of a filtration system known as aquaponics, the Joyfay aquaponic fish tank, uses live plants and growing media to filter and clean the water.
A design like this will allow you to decorate both the inside of the aquarium and the top.

---
Final Thoughts
Choosing the tank size that's best for you is a personal choice. Yet, it is important for you to choose a tank that suits both your budget and your bettas needs.
Smaller tanks can save you some money in the initial outlay costs of setting up your aquarium. But if you might want to get yourself a larger tank later on, or maybe even practice some aquascaping techniques, you might want to look at purchasing a 5-gallon tank instead.
Otherwise, if you are prepared to change the water frequently, and to monitor the pH, ammonia, and nitrate levels, then a quaint little 3-gallon tank might just be the tank for you.
If you want to stock fish your 3-gallon aquarium with fish other than a betta; we recommend using the online stocking and maintenance calculator AqAdviser. For more information on how to use the calculator, please have a read of our article AqAdvisor – User Guide (How to Use It).