Betta Fish Tanks don't have to be boring! There are a plethora of design ideas out there to help you build the vision of what you want your tank to look like. In this post, we'll show you some really Cool Betta Fish Tank Ideas to spark your imagination!
Form follows function – a design principle from the 19th and 20th centuries which states that "the shape of a building or object should primarily relate to its intended function or purpose." As you'll see below, your tank can be purely decorative or serve a functional purpose in your home. Once you decide what function your tank should follow, choosing the form (or design) will present you with nearly endless possibilities. Let's dive in!
Betta Fish Tank Shapes
Betta Fish Tanks come in all shapes and sizes…and price ranges. Here are just a few to spark your imagination.
I just had to show you this one designed by glass artist Vanessa Mitrani. The unique fish tanks are inspired by skyscrapers with the grid design indicating the "windows". The tank itself is very low maintenance, while the architecture is very high end!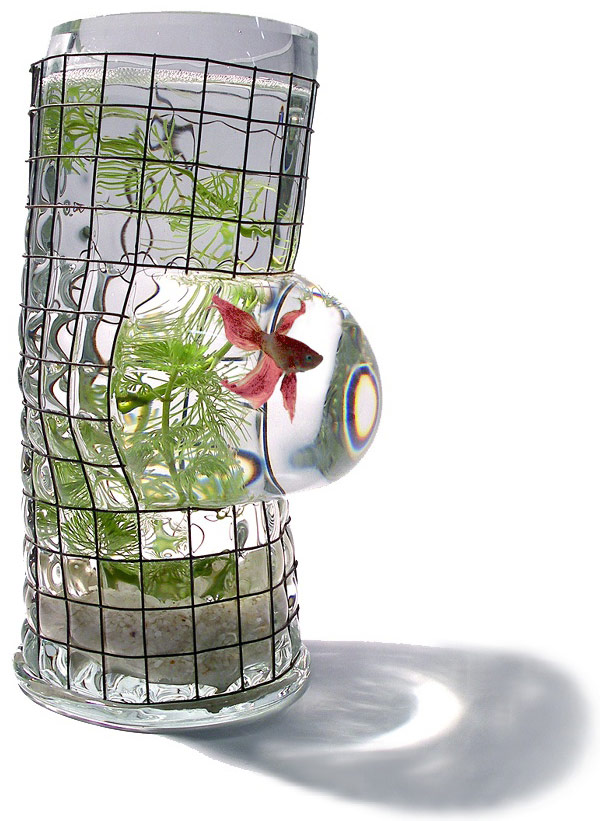 The biOrb Halo Aquarium retails for $99.99 USD on Amazon and is actually constructed of an acrylic that is 10 times stronger than glass with a 93% transparency rating. It features Multi-Color Remote controlled LED lighting with sixteen pre-set colors and brightness control. The hidden waterline creates a virtually seamless design.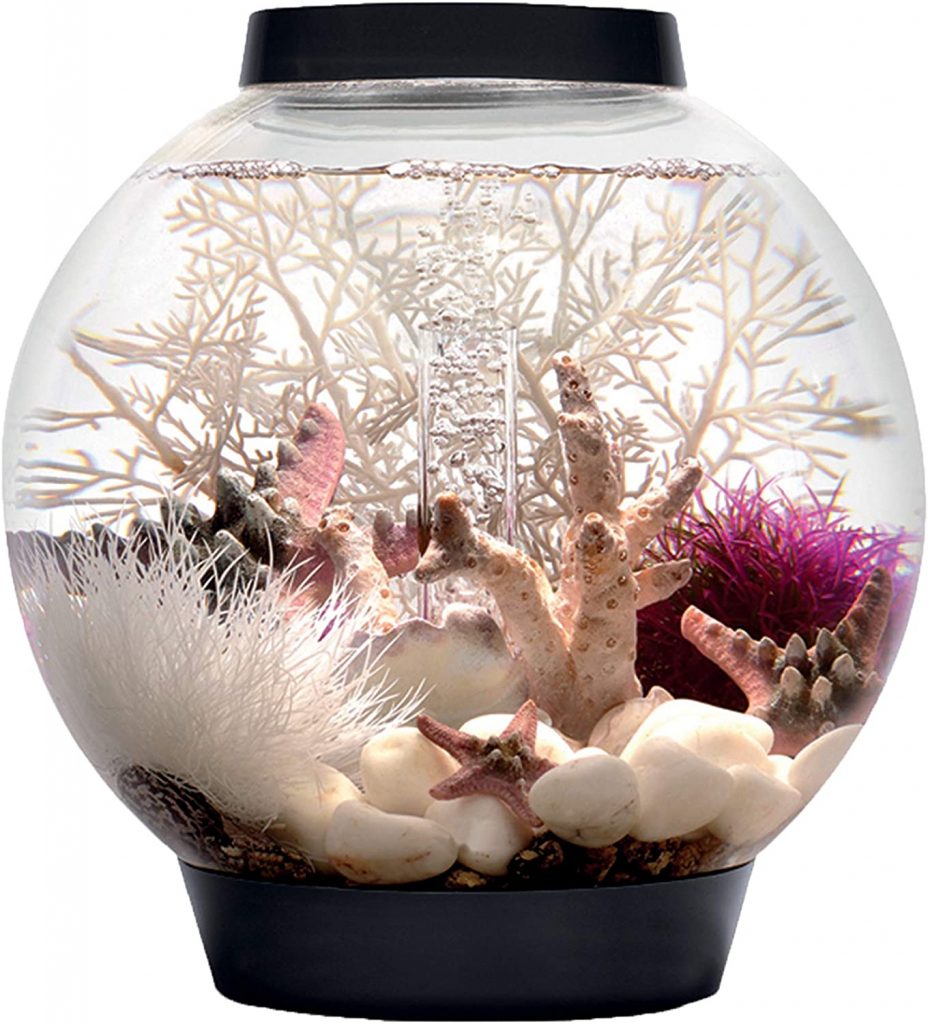 The Labyrinth Aquarium is available for a cool $5500 – $6500 USD! Made from Lucite, this six-globe aquarium includes silk plants, three lights, filters, air pumps, and cleaning equipment, as well as an optional dedicated table in cherry, black, or carbon fiber. Your betta fish would definitely not be bored in this one!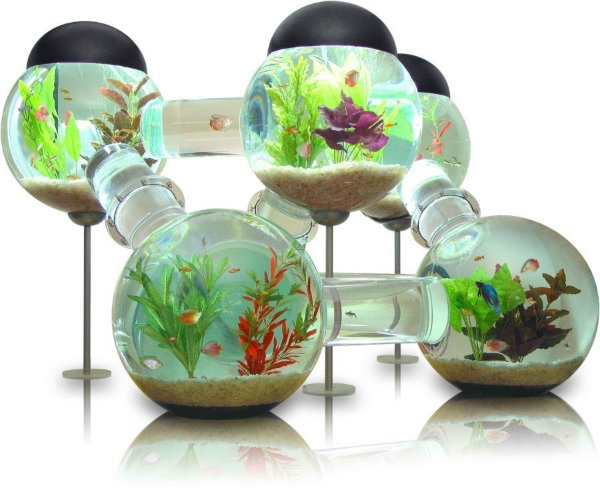 Betta Fish Themed Tanks
Betta Fish Tanks also come in many different themes such as this one featuring the ever-popular Super Mario printed in 3D.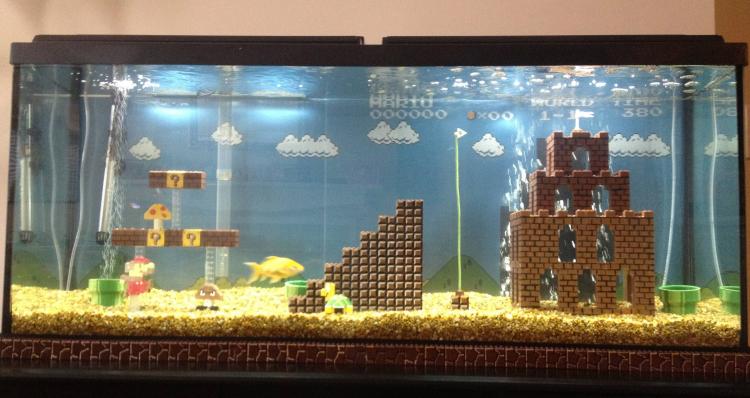 Or how about this upcycled television turned into a fish tank? Take a cruise through Pinterest for even more ideas along this line.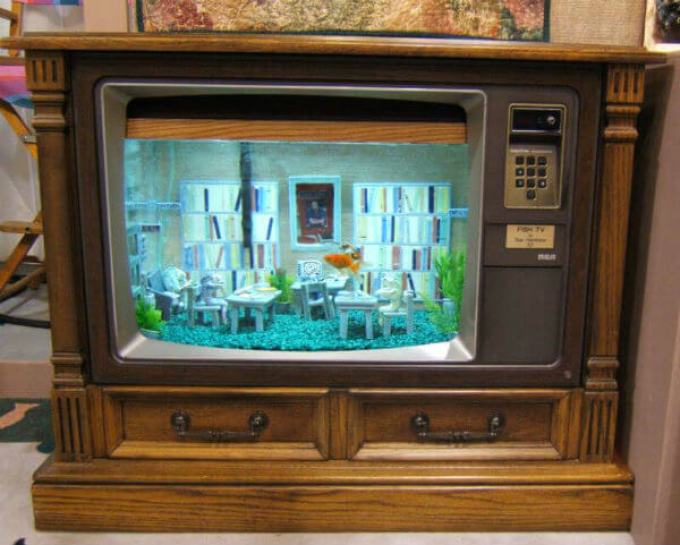 Betta Fish Coffee Table Tanks
This 25 gallon rectangular coffee table tank from Archie & Oscar is available at Wayfair.com. Also be sure to check out the 28 gallon Hexagon and square coffee table from the same manufacturer.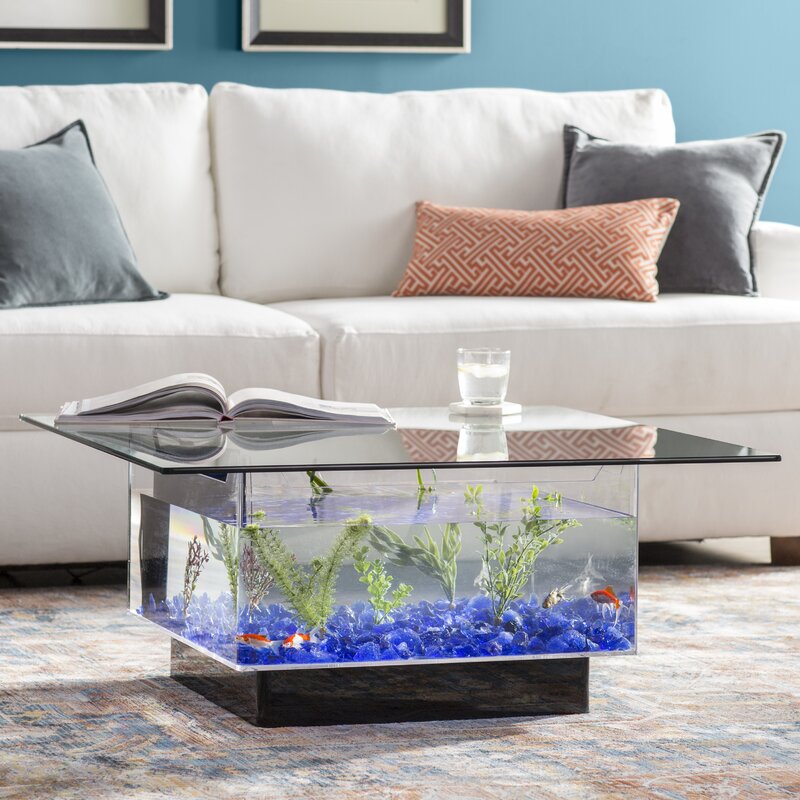 Betta Fish Wall Frame Tanks
I think this one is really sharp. Also available on Wayfair.com, this Angelica 5 Gallon Rectangle Aquarium Tank by Tucker Murphy Pet offers a modern touch to your home decor. The rectangular metal fixture features a clear glass tank that can hold 5 gallons of water. An included submersible filter helps your fish stay healthy and happy, while an LED light fixture shines a spotlight on them as they swim around. Mounting brackets, hardware, and fishnet are included.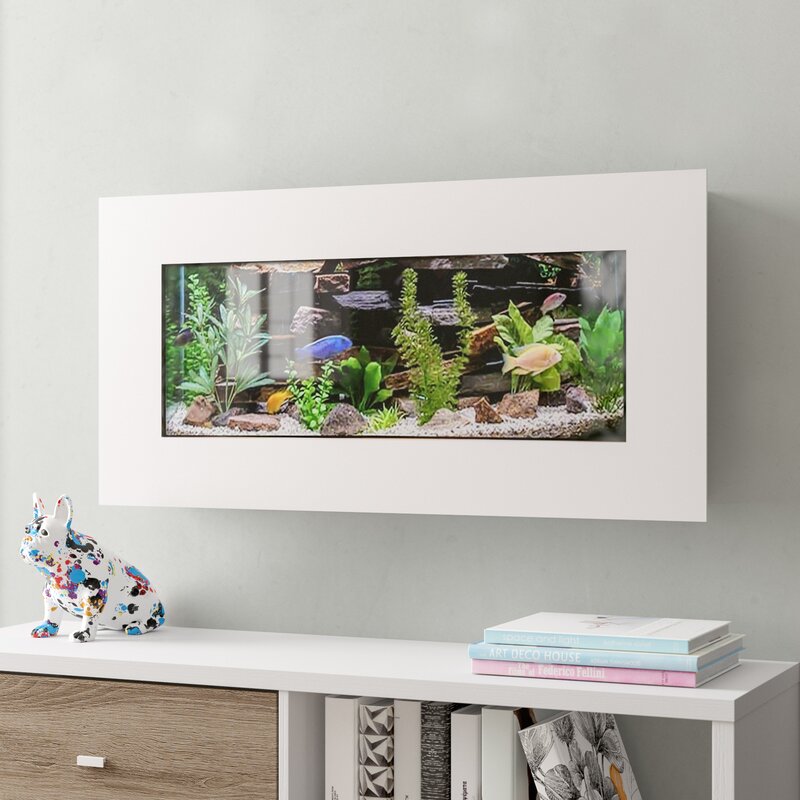 Betta Fish Desk Tanks
The ultimate relaxing office work space! This glass-topped desk will ease your stress while adding a really stunning look to any room.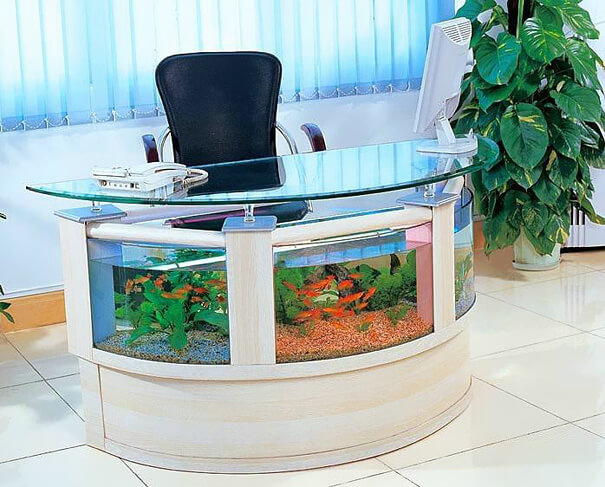 Betta Fish Tanks Featuring Plants
I think the tanks featuring plants are my absolute favorite. You put your live plant in this pot on top, and fish on the bottom. They provide for each other in this design.The fish turn their eaten bait remnants into nutrients for the plant, while the water fed to the plant is filtered as it passes though and becomes clean for the fish.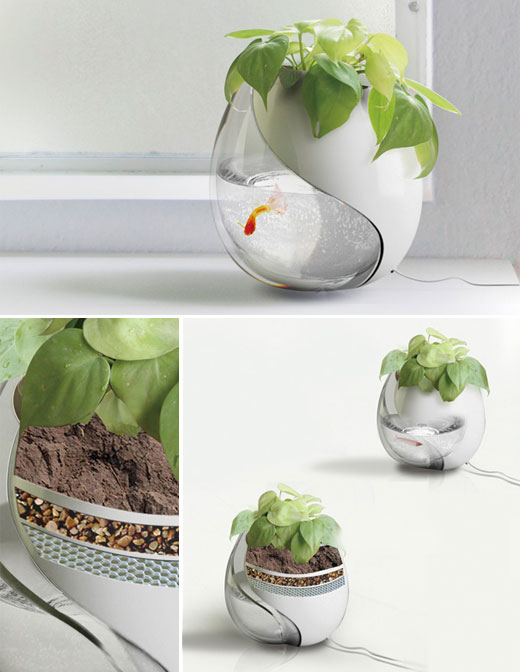 Betta Fish Tanks with Bamboo
This is such a cool 4 gallon set up by TankScape.com featuring a mixture of fresh plants and dried bamboo. Be sure to check out the Q&A over on the website before attempting this one. Many commercial bamboo contains pesticides and there are also tips on how to clean such a setup. It's just stunning, don't you think?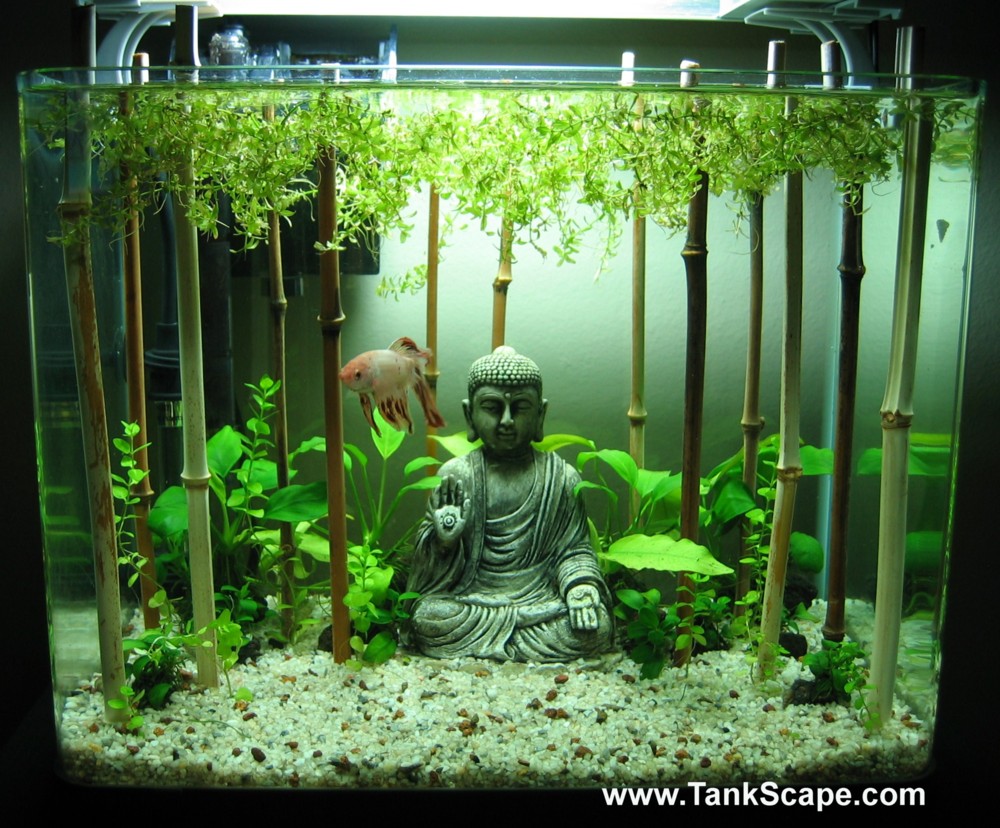 See a tank we should add to the list Cool Betta Fish Tank Ideas? Leave a comment below.
Get help Choosing a tank for your Betta Fish
To learn more about choosing a tank for your Betta Fish, be sure to visit our post, Choosing a Tank or if you are new to Betta Fish, start here.