Close up of betta gills by EM
Photo of fin rot provided by EM
Q: EM wrote,
Hi Christie-

Thanks so much for the website! It has been so helpful to me already, but my poor Betta Warren seems quite sick, so I'm writing for a little more help. It turns out the pet store we got Warren from is somewhat disreputable. All the Bettas looked a little ragged and Warren looked the most sick, but my husband became very attached to him, so we took him home. We got some stress coat and pellets and were told to change his water once a week. Almost as soon as he was in our house, he stopped eating for about a week so, yesterday, I went to a better pet store and got some water testing strips, a plant, a thermometer, and some live worms to feed him. He loves the worms and has been bit more active, but he has a strange shiny coating around his gills and it seems to have spread a little to his body. I thought it might be velvet, but I'm not sure. I'm attaching a couple pictures of it. I don't want to medicate anything until I'm sure of what it is, so I was really hoping you could help me diagnose it.

His tail fin is quite short and uneven, so I thought maybe fin rot. He also did have a fuzzy thing attached to one of his fins for a while that came off into the water. That was last week and it hasn't happened since, so I'm hoping it was just an infection as a result of stress and bad water conditions that has since passed. His coloring seems a little dull.

We tested the water and found that the ammonia levels were too high and that water out of our tap has a little bit of ammonia in it (<0.25ppm), so I'm going to be testing the water conditions every day and replacing it with Britta-filtered and stress-coated water to try to keep that in check. Here are the other water stats:

Nitrate: 0
Nitrite: 0
Hardness: 50-120 ppm
Alkalinity: 120 ppm
pH: 6.8
temp: 70 oF (too cold, I know, but I'm just trying to keep it stable for
now)
A: Hi there and thanks for writing in. I have to first say Kudos to you and your husband for buying the sickest looking fish in the store. I believe you gave this fish a chance at life when it probably wouldn't have lasted long on the shelf. Adopting these sick fish can make for a difficult challenge as they often have weakened immune systems and may suffer damage from ammonia poisoning that they never fully recover from. Many of these fish don't live quite as long as those that are kept in good conditions from birth, but now this betta can live out the rest of his life in a home where people care about his health.
I looked at the photos and I didn't see any signs of velvet, though sometimes it doesn't show well in photos. You may be seeing something that I can't. I thought perhaps you were looking at the white shimmery pigmentation on his face and gills. This is a very common coloration in white bettas and it may appear to be spreading because as he gets healthier his true colors will begin to appear. Personally, white bettas are my most favorite and I have had several. I'm going to link to two photos of mine to show you similar shiny pigmentation on my betta's face and gills.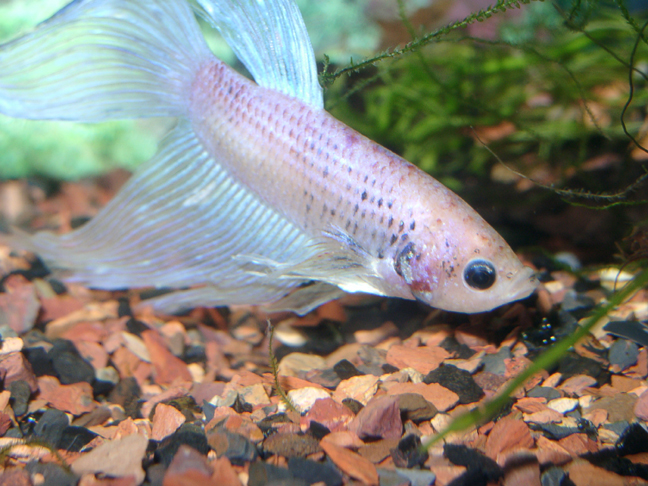 Photo of white betta with white pigmentation on gills by Nippyfish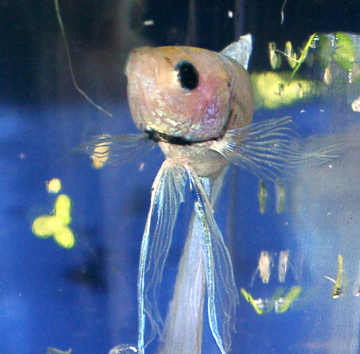 Close-up of white betta provided by Nippyfish
I agree that your betta probably did have fin rot as he is missing a substantial portion of his tail fin. He doesn't appear to have blackened or bloody fin tips and it almost looks like he has some new clear fin tissue growing at the ends. I think his immune system has already begun the healing process. Unless he continues to loose fin tissue, I would hold off on antibiotic treatment. Additionally, if the fuzziness on his fin has fallen away and hasn't spread, I don't think it is necessary to treat him.
Now that he's eating his live worms (I've never known a betta to turn them down) and apparently is on the mend, I would begin to slowly warm his water over the next several days. Two Fahrenheit degrees per day until it reaches 78 to 80 degrees is a nice safe and slow increase. Regarding the ammonia in your tap water, I recommend using a combination of Kordon's AmQuel+ and NovAqua as your regular water conditioner. In addition to removing chlorine, chloramines and heavy metals, it will bind harmful ammonia.
From the photos, he looks really good and I hope that he will continue to do well now that he is living in much better conditions.
Best of luck.
Christie