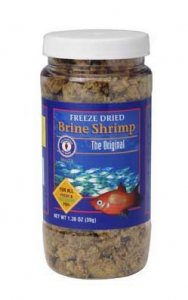 Frozen Brine Shrimp
BL wrote,
I really enjoy and rely on your site, and wondered if you're still taking questions. I got some frozen brine shrimp in a grid of little packets and am wondering what I do with it – how long will it take the betta to eat through one packet, and should I keep that portion in the fridge or the freezer? How to chip off a portion? Do I let it thaw to room temperature?Sorry, I know this is a pretty small question and one that I will eventually figure out myself, but I'm a new fish owner and don't want to do anything wrong.
A: Brine shrimp is an excellent food for your betta fish as part of a balanced diet. Frozen brine shrimp, like those made by San Francisco Bay Brand or Hikari are most often sold as flat packs or in individual portioned cubes like the one you are describing. For a betta fish, one cube can go a long way, often lasting a week or more. When feeding in conjunction with other foods, one pack can last a year for one fish if stored properly.
Frozen Food Storage: The big name brands carefully sterilize their frozen fish foods to kill off any harmful bacteria that can make your fish sick. Assuming they were transported correctly and quickly stored by the fish store staff, the frozen fish food you receive is safe for your betta. The cube packs melt quickly however, and should be stored in your freezer as soon as possible. I recommend transporting them in a cooler to avoid thawing, especially in warm weather. Refreezing thawed meet (even brine shrimp) does increase your chances of spreading bacteria to your betta.
Portioning: Bettas are prone to bloating and overeating so small portion sizes are key. One portion of betta food should be about the size of his eyeball. This amount can be fed two or three times per day. I am often only able to feed my bettas once per day so I tend to feed just a little more, perhaps twice the size of their eyeballs each day. If your betta appears bloated after feeding, reduce your portion sizes.
I'm sure if you asked 20 people how they divvy-up their frozen brine shrimp cubes you would get 20 different answers. Here's how I do it… I pop one frozen cube from the package and put it in a zip-lock sandwich bag. Positioning it on the counter in the center of the bag, I VERY lightly tap it with a hammer a few times. Because of all the meat in the cube it tends to crush rather than splinter like an ice cube. If you hit it too hard you will either damage your countertop or send the cube shooting through the bag, across your kitchen's bar top, past your living room furniture where it will bounce off your glass patio door and onto the floor where it will quickly be investigated by your cats. So I don't recommend hitting it too hard.
Assuming you've crushed it easily with a hammer (rolling pin does the trick too) you can scoop out a small portion with a tooth pick and feed it directly to your fish or swish it around his tank so that it breaks up in little pieces. If he likes the brine shrimp, which most do, he will hunt down all the little pieces and continue searching for more long after he has eaten every bit. The brine shrimp melt almost immediately upon entering the water so thawing is unnecessary in most cases. The remainder in the sandwich bag should be immediately stored back in your freezer for another day. I don't know exactly how long it will stay good in the sandwich bag, but I personally toss any open frozen fish foods after about 7 days. It's so cheap that I don't bother trying to make it last longer than that and once it is open the chance for introducing bacteria is greater.
We'd love to hear how others feed their bettas. Please tell us about your feeding routine in the comments.
Learn more about feeding betta fish.