Dropsy is not a disease itself, but rather a symptom of another problem.
Dropsy
is the term we use to describe the severe bloating or pinecone appearance our betta fish take on as a result of organ failure. It is generally believed by fish keepers that Dropsy can be caused by a variety of things including bacterial diseases, viruses or even
parasites
. You will sometimes hear stories of Dropsy being terribly contagious and killing off many fish at a time. Technically, this isn't true. The initial infection may be contagious and may infect several fish leading to multiple cases of Dropsy, but the Dropsy itself is not contagious. More often than not, Dropsy pops up in our fish tanks as an isolated incident. This is especially true with betta keepers as they typically keep their fish in isolated containers.
While any fish can get Dropsy, it seems to affect Betta Fish and Goldfish the most. I'm not sure exactly why that is but I have some speculations. First, I suspect there is something about their physiology that predisposes them to organ failure. What that is, I couldn't say. Perhaps it is that both bettas and goldfish have been so intensely bred for their physical traits that they have become more susceptible to stressors. Secondly, these fish may be exposed to poor water conditions more often than most other aquarium fish. Bettas and goldfish are both commonly kept by beginner aquarists and may then be open to more mistakes made by new hobbyists. The other major stressor both have in common is that they are frequently kept in tanks too small for them. Fish stores often sell bettas in small bowls without educating the buyers to the dangers of ammonia and nitrite poisoning. Goldfish too are often poisoned by their own waste. Goldfish are very messy and excrete a large amount of waste for their size. Each medium sized goldfish should have at least 10 gallons of water but they are often kept in tanks much smaller. Aquarium conditions may just be the reason we see Dropsy so often in bettas and goldfish.
The symptoms of Dropsy are many; bloating, extended scales, color loss, loss of appetite, lethargy, clamped fins, swim bladder disorder, etc. I want to focus on the two tell-tale signs – bloating and pineconing. I regularly receive emails from readers indicating that their betta has one symptom but not the other. It is important to understand that these symptoms are not mutually exclusive. Your betta may have one or both or maybe even neither of these symptoms but could still have Dropsy.
SEVERE BLOATING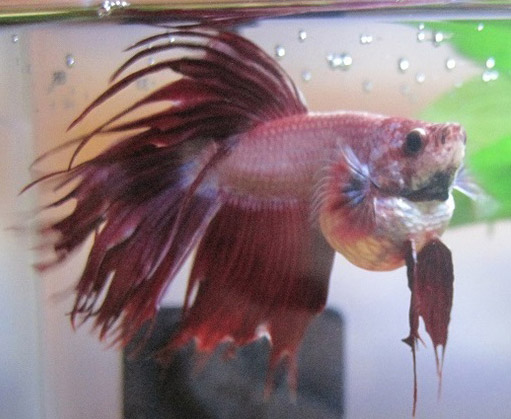 It could also be that your betta is severely bloated but does not have Dropsy at all. Bloating can be the result of overfeeding, or in females, can be that they are bound with eggs. In rare cases the bloating could be a tumor. Very severe bloating of the abdomen is usually the result of organ failure and caused when fluid builds internally. In my experience, I have not seen bettas with both pineconed scales and severe abdominal bloating. Do not discount Dropsy just because you do not see protruding scales.
PROTRUDING SCALES – PINECONE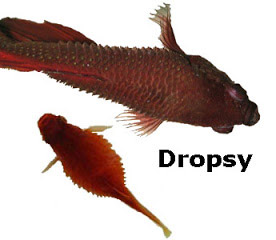 Protruding scales, commonly referred to as pineconing because of the appearance, is the most common symptom associated with Dropsy. This symptom is prevalent in both bettas and goldfish. Pineconing indicates a serious problem. In bettas, it often indicates severe organ failure and death to follow. In some cases bettas will appear to recover from this state. Once the internal organs have been damaged, symptoms of Dropsy usually return within a few months. To my knowledge, pineconing is not associated with any other betta fish illness. I see it is a positive sign that the fish has Dropsy.