If you stop to watch your betta for a few minutes you will see him surface, sticking his mouth above water, to suck in air. Though they have gills, they still rely on their labyrinth organ (similar to lungs) to gain oxygen from the atmosphere. This allows them to survive in poorly oxygenated waters where other fish species would suffocate and parish. Betta fish spend much of their resting time floating near the surface. They will even sleep there if they have a surface to rest on or against. In their natural habitat Bettas will hoist themselves onto submerged leaves and other debris where they can relax comfortably and still get the air they need. If there is not a surface to perch on in their aquarium they will find other ways to rest their wary fins. You may find your betta wedged between the filter and tank glass or simply squished into a corner.
Do Betta Fish Sleep?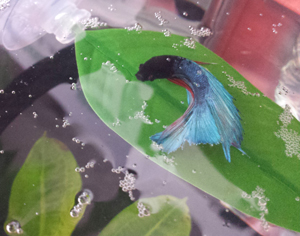 An answer that may surprise a lot of people is: Yes- all fish need sleep. Depending on how active your fish is, directly results in how much sleep they need. Fish that are mainly active during the day time, such as Betta fish will do the majority of their sleeping of a night time while predominately active night fish will sleep during the day.
Unlike humans, Betta fish do not have eye lids. They also do not drift away into a deep sleep but they do take time to rest when needed. A Betta fish will find a comfortable place where they will rest and become inactive for a period of time. Creating a spot for your Betta to rest will allow them to feel secure and safe. Real plants, artificial aquarium plants or a fish hammock create the perfect resting spaces for Betta fish.
Why Offer a Resting Place
Offering your betta a place to rest near the surface will help to reduce stress and create a feeling of security for your fish. For sick or weakened Bettas, this is particularly important so they are able to reserve some of their energy, focusing on healing rather than straining to reach the surface to breathe.
Choosing the Right Resting Place for Your Betta
You can provide your Betta with one of the following to imitate a similar resting area that would be available in their natural habitat:
Live or Silk Plants
Keeping a variety of live or synthetic aquarium plants in your aquarium will not only make your betta feel more secure but it will also allow him to choose from a variety of places where he can relax. Choose plants of varying heights and textures so your Betta has options.
Floating Logs
Zoo Med Laboratories has created a Floating Betta Log specifically designed for betta fish. It not only floats, it has a hole so that Bettas can surface or blow a bubblenests in a calm environment.  The floating Betta log creates a place where your fish can sleep but also play, breed and feed.
Styrofoam Cups
Frequently used by betta fish breeders to create a secure place for the male to build a bubblenest. In breeding the cup is cut in half lengthwise and placed at the surface so that the convex portion protrudes from above water. If you are just looking to make a hammock for your betta, flip the cup over so that the majority of it is suspended underwater. This creates a nice surface where the Betta can lay and rest.
Betta Leaf Hammock
Zoo Med Labs has created a Betta Leaf Hammock. The suction cup allows you to adjust the floating synthetic leaf so it floats in just the right spot. The rings have a Styrofoam insert that keeps it at the surface. Bettas love to blow bubblenests in them as well as float inside the ring. For more details on this Betta hammock a video is available below.