Even mild filter current can become a nuisance for a betta fish who have large heavy fins and are notoriously slow swimmers compared to other small aquarium fish. It can be challenging for betta keepers to find a balance between enough current to keep the water clean and cycling, yet gentile enough to allow their betta fish to swim comfortably and eat their food without it being washed away. Here are a few tips for getting the filter current just right in your betta tank.
Buy a filter with adjustable flow control.
In a perfect world we would all have the time to research the best equipment for our betta tanks. Most of the time this doesn't happen, but in the off chance you are reading this and haven't yet purchased your filter you can do yourself a favor and buy one that allows you to adjust the rate the water flows out of the filter.
Create a flow baffle.
If you can't buy a filter with adjustable flow you can disperse the flow of water from the filter by making yourself a baffle. A baffle could be anything that blocks or redirects the water coming out of the filter. One easy way to create a baffle is to buy an inexpensive tank divider kit. It includes a mesh screen and attachment mechanisms. Cut the mesh the long way in a 1" to 2" strip and crate a small around the flow outlet fastening the mesh to the back wall.
Another popular method is to use a plastic soap dish or shower caddy with suction cups. Adhere the dish just below the water outlet so the water is slowed by the dish. You should never use anything that had held soap in a fish tank as it can be toxic to fish. If you try this method buy the soap dish new. It costs only a few dollars.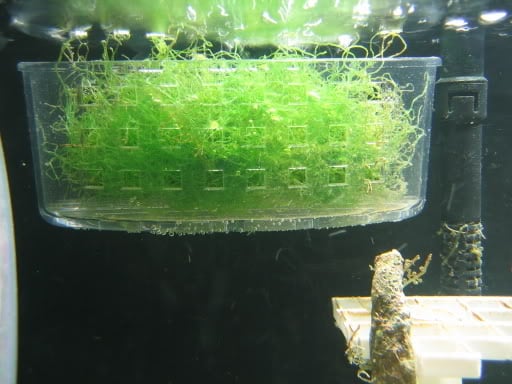 Block the filter intake.
Women's pantyhose have been used for years by betta keepers to block the flow of water through the intake, thus reducing the current. Take a brand new pair of women's hose and cut out the toe. Wrap the filter intake in the pantyhose and secure in place with rubber bands. This method also helps to reduce damage to fragile betta fins.
Create an Oasis
Another way to reduce the filter current is to decorate your aquarium with a variety of hiding places and thick foliage. Add a log, flower pot, drift wood or other décor to create a safe place your betta can hide from the current. Adding lots of full aquarium plants (real or synthetic) will also help to reduce the effects of the current. This not only helps your filter problem, it helps your betta feel more secure and makes for a beautiful aquarium to look at too.
Do you have some of your own ideas that we didn't mention here? Please share your methods for reducing filter current in our comments section.