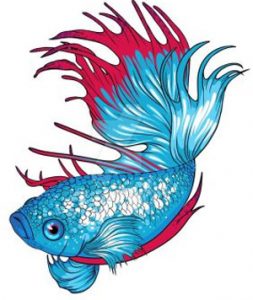 You've purchased your delicate Betta fish and have brought him or her home. One of the biggest decisions (of course equal first with which tank to purchase) once your little fish has settled in is what will you call your new family member?
Some people are more creative than others when naming their school of fish. Some opt to name their Bettas after fictional characters while others go for something more simple such as Bob or Bruce.
Finding a name that is unique yet matches the appearance and personality of your Betta can be tricky. We have compiled some of the most adorable and suitable unisex names for your Betta fish.
Adorable Unisex Betta Fish Names
A
Ace
Algae
Andy
Atlas
Aqua
B
Bailey
Bait
Bluey
Bubba Gump
Bubbles
Bubbly
Buddy
C
Caramel
Casper
Chalk
Charlie
Cheeto
Chip
Chompy
Clash
Comet
Coral
Crackle
D
Dash
DaVinci
Dory
F
Fangs
Fin
Fire
Fishy
Flame
Flipper
Flounder
Fluffy
Freddie
Frosty
G
Glimmer
Goldie
K
Kai
Kennedy
L
Louie
Luna
M
Marble
Mojo
Moon
N
Nemo
Neon
Nibbles
Ninja
O
Otto
P
Pal
Parker
Pepper
Poppy
Popsicle
R
Rainbow
Red
Remy
River
Rocky
S
Salsa
Saturn
Scout
Shadow
Shark
Sky
Snowflake
Snowy
Speckles
Speedy
Spot
Spud
Starlight
Striker
Stripes
Storm
Sushi
T
Tetra
Tigger
Topaz
V
Vanilla
W
Wave
Whipper
Z
Zippy
Zoom