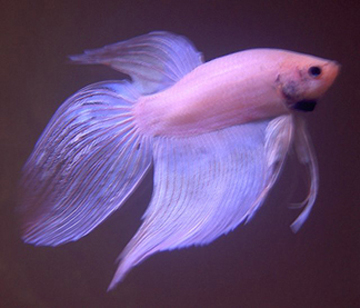 Frost, lost to a tragic jumping incident.
Q: LF wrote,
Help my betta jumped out of the bowl. I found him on the floor still alive and put him in his bowl. He's on the bottom kind of breathing heavily. He's not on his side or anything. What can I do?
A: Oh, how stressful for the little guy. Weather or not he'll make it depends on how long he was out (how dry his gills got), his overall health and the amount of stress and injury he incurred. I recommend keeping a careful eye on him and perhaps adding a conditioner that supports good slime coat. I like to use NovAqua since it's what I condition my water with anyway. Many people recommend StressCoat which I have mixed feelings about but if you have it I think it might be a good time to use a little. Keep his tank water very clean over the next several days and increase the number of water changes you do per week. Also, if he's having trouble breathing, consider a little aquarium salt. (1 teaspoon per 5 gallons of water) This will help to improve gill function. Other then that, I wouldn't add anything else for now.
Additional Notes:
Bettas certainly have proven themselves time and time again as capable jumpers. I recommend always covering Betta tanks with a tank hood or mesh cover. Pay special attention to areas that remain uncovered like the space around filters and heaters. I once lost a beautiful white Betta when he jumped out of a hole the size of a quarter. I have since taped over all exposed holes or have fitted them with pieces of plastic that I cut to fit snuggly around protrusions.
Often Bettas jump simply because they can but it may also be a sign that your water quality isn't what it needs to be. If you have a jumper follow up with the usual water tests. Check your ammonia, nitrite, nitrate and pH. Rather then jumping some bettas will hoist themselves on top of a leaf or other floating decoration. If you notice this behavior double check your water parameters to rule out poor water quality as the culprit. Often the reason is benign but it's best to know for certain if your Betta is trying to tell you something.