Did you know that Bettas can tell you how they feel? Well, not with words but rather through body language. Bettas use all kinds of physical displays to send a message. One of the most commonly observed displays is the spreading of their fins and gill covers in an impressive display that says, "BACK OFF BUDDY!" Bettas also have more subtle ways of illustrating how they feel.
Fear Stripes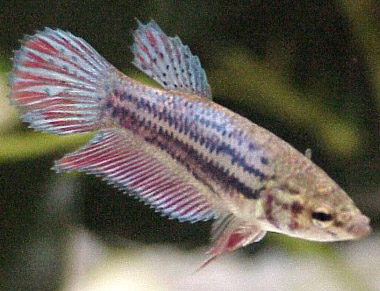 Betta fish have the ability to alter their pigment creating stripes that communicate to other fish. The light horizontal band running along the fish's sides is known as a fear stripe. This display is most often observed during times of severe and rapidly occurring stress, such as when you net your fish or put your siphon in the aquarium for a cleaning. Fear stripes are more common when the fish senses a sudden threat and is not usually observed in sick fish or fish that have more gradual stressors.
Breeding Stripes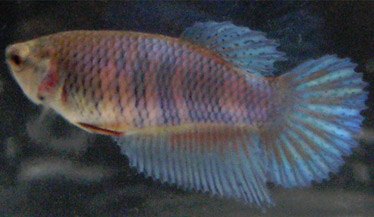 Breeding stripes are commonly confused with fear stripes but are actually really easy to identify. Only female bettas display breeding stripes. These stripes run vertically along both sides of the fish in a series of 5 or 6 light colored bands. While breeding stripes can be quite intense usually fear stripes appear more vibrant.
When females are in good breeding condition and ready to mate with the male, they will begin to show their stripes as an indication to the male betta to proceed. When selecting females bettas for breeding you should condition them for several weeks with clean water and a well balanced nutritious diet. Look for the breeding stripes as an indication that the female is ready. Females do not need a male betta present to show their breeding stripes. Conversely, if you have a female you suspect is ready to breed but is not showing her stripes, you can put her within view of the male for several hours or even days to encourage striping. Usually they will begin to show their breeding stripes within a short time if the are ready to breed.