Betta breeders are always developing beautiful new breeds of betta fish that simply aren't available in the big box pet stores. These fish are almost exclusively shipped to buyers by mail. There are some minor variations when buying a betta from a breeder, but it basically goes like this:
Buying Bettas Direct from a Breeder
Your breeder takes great care in conditioning his or her fish for optimal health and appearance. They feed their bettas a highly nutritious diet, often consisting of a combination of live and frozen foods and sometimes dry pellet food too, which contains added vitamins and minerals. Breeders WANT you to be happy with your purchase so they don't ship bettas with torn or blown fins or who are diseased.
Some breeders allow you to purchase a specific individual. They may advertise that betta on their website or through an online auction like AquaBid.com allowing you to buy the exact fish from the photo. Others will sell you a betta from their stock. You tell them what kind of betta you want and they will select one of the best and healthiest for you.
You can communicate with many breeders through email which allows you to tell them what you are looking for. For example, it can be helpful if they know you are looking to breed the fish yourself or if you just want it as a pet. This will help them select a betta based on appearance and genetics or personality.
A breeder may decide to delay shipment of a betta fish if it is showing signs of illness or in the case of severe weather. A reputable breeder will not ship a betta if there is a chance it will get delayed in the mail or if it will suffer the effects of severe heat or cold. Try not to be frustrated if the shipment is postponed. This is a sign of a responsible breeder. Believe me, they understand that you are excited to receive your betta fish and want to get it to you as soon as possible.
Before Your Betta Fish Ships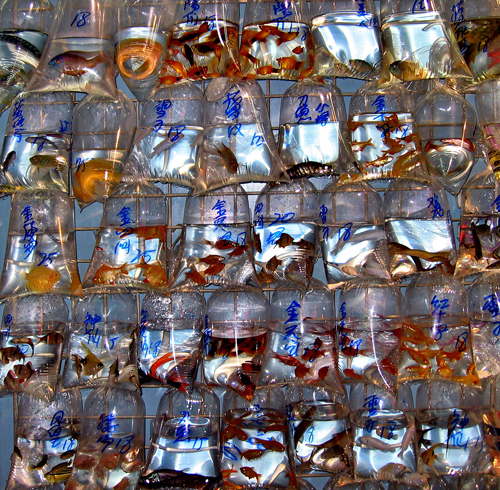 Before your betta ships your breeder will fast the fish, withholding food for 24 – 48 hours to reduce fish waste accumulation in the bag. Because bettas are shipped with very little water, even a small amount of waste can quickly develop into toxic levels of ammonia.
Bettas are placed into a plastic fish shipment bag. Bag sizes vary but all have a small amount of water compared to the amount of air. With labyrinth fish like bettas, who get their oxygen primarily from the atmosphere,  it is more important that they have an adiquate air supply.
Some breeders use water additives when shipping like Jungle Lab's Ship Right or a few drops of Methylene Blue to aid in fighting off fungus. You may notice a blue tint to the water when you open your package.
After they add the betta fish they will fill the majority of the bag with air or added oxygen and will seal the bag with a knot or rubber band.
Packaging methods vary but often the bags are wrapped in a tube of newspaper or tucked tightly into place with Styrofoam to reduce jostling in the box. The box itself is insulated with Styrofoam or similar materials.
In cooler weather the breeder may choose to add heat packs to keep the fish from getting too cold. The cost of the heat packs and insulated boxes are typically passed onto the customer so expect to pay for it. Look to the breeder to make the call on whether or not the heat pack is needed. Most are very experienced shippers and will know when it is necessary.
Your breeder will seal up the package and should mark the box LIVE FISH or LIVE ANIMAL
Depending on what you work out with the breeder your betta will be delivered either overnight, next day or at the most 2-day delivery. Breeders typically guarantee safe, live arrival with certain shipping methods. For example, they may only guarantee the fish if it is shipped overnight delivery. If you opt for the less expensive 2-day it is often at the buyers own risk.
When Your Mail Order Betta Arrives
When your betta arrives expect to have to sign for the package. This is typical unless you arrange to have the signature waved. Immediately upon arrival open the box but not the bag with the betta inside. Check first to make sure the betta is alive and well. It is vary rare that a betta arrives dead, but if it happens DO NOT open the bag. Be sure you are familiar with your breeders refund/replacement policy. Many breeders require a photo of the dead fish in the unopened bag within a short time (varies) of delivery.
Ideally you'll have your bettas aquarium or quarantine tank already set to go when your fish arrives. Shipping can be stressful for your betta so take your time acclimating him carefully.
Ordering fish online is easy and allows you access to an incredible assortment of betta fish. Even rare or unusual breeds can be purchased and shipped worldwide in a short time. Mail order bettas, though more expensive than the big box store bettas, are often still quite reasonably priced and don't necessarily cost any more than private pet store betta. If you are looking for something specific and want to know the history (birthday, genealogy, etc) of your fish buy direct from the breeder. They are often healthier and longer lived than store bought bettas too.
Looking to get in touch with a reputable breeder? Check out the International Betta Congress. The IBC is a nonprofit, world-wide organization of approximately 700 Members, promoting the selective breeding, raising and study of the genus Betta.