When it comes to feeding your betta fish, there are several different types of fish feeds that you could use. From flacks and pellets, to live foods or frozen food; the market is full of options. Finding the best type of food for your betta will ultimately come down to a combination of your budget and your betta's own personal taste.
Give Your Betta a Healthy Diet
Before we get into the different types of fish foods that your betta may like, we firstly need to cover proper feeding habits. As a carnivorous species, bettas need to maintain a high protein diet. In the wild they are opportunistic feeders that feed upon worms and bugs, and are unable to survive on a wholly plant based diet. To help keep their bright coloration looking vibrant and shiny, you need to give them a varied diet that contains the right amount of vitamins and minerals. This can be achieved by feeding your betta pellets or flacks on some days, and live or frozen foods on the other days.
Avoid Bad Feeding Habits
One of the biggest mistakes that many owners make is overfeeding their fish. Even if the food you are using is highly nutritious and healthy for your Betta, overfeeding your betta is counterproductive. Not only can this cause the water quality to drop as uneaten food breaks down; when your fish eats too much it can become constipated, and find it difficult to swim around freely.
Your betta should be feed twice a day, and in portions no larger then their eyeball. If you are feeding your betta blood worms or pellets, 2-3 of these per feeding should be enough, any more and you start to run the risk of over feeding your betta. Also keep an eye on the food that you are feeding your betta. Make sure that all the food is eaten, if the betta misses some, or ignores it; remove that food from the tank. Any food that is left in the tank will begin to break down, which can increase the ammonia levels in the water, which can make your betta sick.
Use Quality Food
Be mindful of your budget but don't cheap out on the fish food you use too much. Live and frozen food are some of the highest quality foods for your betta, but they can be more costly than pellets or flacks. Solely feeding your betta a diet of low quality pellets and flacks could equate to you living on nothing but junk food. So supplementing in some frozen brine shrimp or blood worms every now and then, would be a better option that allows your betta to have a healthier diet, while remaining friendly to your budget.
When feeding your betta processed pellets or flacks, it is also best to use fish foods that have been formulated specifically for bettas, and not just a generic all round fish food. As each species of fish have different dietary requirements, using a fish food that is not formulated for bettas can be detrimental to their health. Processed fish foods that are not meant for bettas could be lacking the appropriate amount of proteins that are needed for a healthy betta to survive on, and they even have a higher risk of causing constipation as your betta may not be able to break down the fish food properly.
For more information on feeding your betta fish, or how to treat a constipated betta, please read our following articles:
Live Food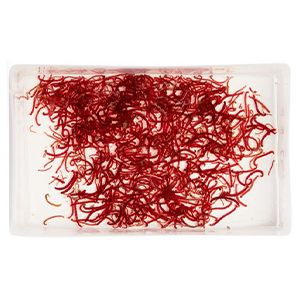 Undoubtedly the best food source for bettas, and the most expensive. Unlike the other food types, Frozen and Dried, live food has a limited window to use them. Some live foods can spoil and die, or in the case of mosquito larvae, their life cycle may be over too quick and they can out grow their use. This makes storing live food a short term solution; which means that if you are not maintaining and farming your own supply, it can be quite costly to sustain this type of diet.
Feeding your betta live food, also has the added benefit of encouraging your betta to actively hunt, giving them more exercise and a healthier lifestyle. Your betta can also live on a purely live food diet as well. But this is a diet that has risks of its own to worry about. Parasites and other pathogens could infect your betta if you were to feed them a contaminated food supply. To avoid this, only source your live feed from reputable suppliers, or grow your own and don't feed your betta things that you've caught from the wild.
Different Types of Live Food
Here are some of the more common live foods that can be fed to bettas. Some of these creatures, such as live worms, can be hand fed to your betta. Others, you can simply place in the aquarium, and your betta will swim after them to hunt them down to feed. Live foods can be bought from some of the local pet and aquarium stores. Most of the larger chains don't stock live foods for fish, instead preferring to stock feeder fish as feed for larger fish.
Live worms – black worms, grindal worms and white worms
Bloodworms
Daphnia Fruit Flies
Mosquito larvae
Wingless fruit flies
Frozen Food
Just like live food, frozen food can be a very healthy option for your betta. If you are cultivating your own live food, or buying it in bulk, you can portion out any excess live food you have and freeze it off for later use. Otherwise you can buy pre-frozen food.
The one advantage that frozen food has over live food, is that it can be stored for extended periods of time, and is available year round. One of the biggest disadvantages is that you need to prepare many of the frozen foods to get them ready for your betta.
Different Types of Frozen Food
Most frozen foods can be found in aquarium and pet stores of any size. You may be able to source some online, but you run the risk of the food defrosting during shipment. For this reason, we would recommend that you only buy your frozen foods from a local business.
Frozen bloodworms
Frozen brine shrimp
Frozen mysis shrimp
Frozen black mosquito larvae
Serving Stations
Feeding live or frozen foods to a singe fish can be easy to do. You can place the food directly in front of the fish with tweezers, or you can scatter a small amount into the tank and let your betta seek them out. When you are feeding multiple fish and want to minimize the risk of the food falling to the bottom and going to waste, you may want to consider using feeder stations.
More suited for feeding your fish worms, these nifty little devices contain the food in one location, while allowing your fish to pick at it as bits of the food poke out through the holds.
Dried Foods
While not our favorite type of food to feed our bettas; they are cost effective, require minimum effort to maintain enough stock, and meet the basic needs of the betta. The biggest issue with dried foods such as pellets and flacks, is that they don't contain enough moisture to be digested properly. You can get around this by pre-soaking the pellets prior to feeding them to your betta fish.
The other issue, is that pellets are not enough to provide a balanced diet for your betta. If you are using pellets as the main source of food for your betta, we recommend supplementing their diet with the occasional piece of frozen food. Also make sure to keep an eye out for bloating or constipation issues, as not all bettas can digest pellets properly.
1) NorthFin Betta Bits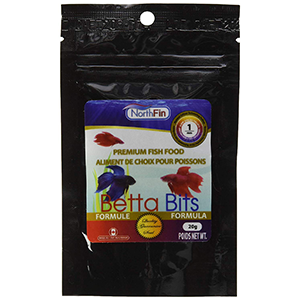 With 45% protein and a moisture content of around 9%, Northfin Betta Bits are one of the best dried foods to feed your betta. The biggest problem that we have found with regards to this product, is that it can be hard to get hold of, and may need to be specially ordered in for you if you were to request it at your local pet or aquarium store.
2) Omega One Betta Flakes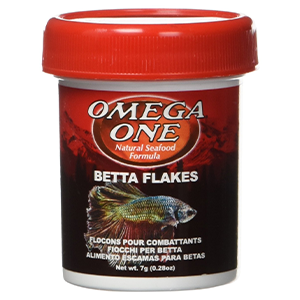 Another dried food product with a high 43% protein content. Omega One makes their products in the US with fresh seafood and not with meal. Using flakes to feed your betta can be problematic, as most bettas will refuse to eat flakes, instead preferring to eat other types of solid foods.
3) Ocean Nutrition Betta Pellets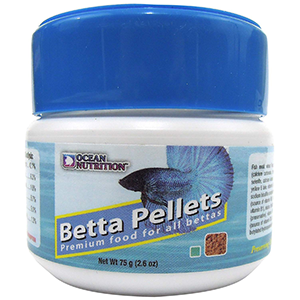 Ocean Nutrition Betta Pellets are small enough to be easily eaten by your betta, and have the added benefit of also improving the colors of your betta. These pellets will not cloud or discolor your water, but they can sink relatively quickly if not eaten soon enough.
4) Hikari Betta Bio-Gold Baby Pellets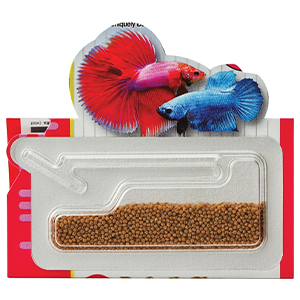 These small baby sized pellets are very easy for bettas to eat. The unique dispenser also makes portioning the pellets easy to do, once you've gotten use to it that is. Like so many other dried foods, one of the greatest problems with this sort of product, is that they contain high levels of fillers and artificial colors.
5) Tetra BettaMin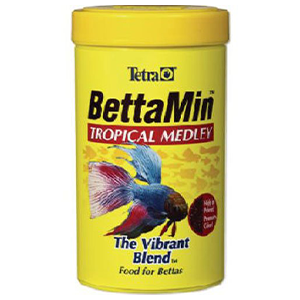 There are not many flake foods that we would suggest to try and feed your betta with. If you need to feed multiple fish and flakes are the better option for those fish, and you can manage to get your betta to eat them, BettaMin can be a good cross species feed with its moderately high 40% protein levels.
Freeze Dried Foods
One of the most readily available fish foods online, and not one that we ourselves would recommend. Freeze dried food is the less nutritious fish food available, but should you find yourself in a situation where you need to use freeze dried food, make sure to pre-soak it prior to feeding. If you feed your betta freeze dried food without soaking it first, it can cause massive bloating and constipation issues. It would be like us humans trying to pass rocks that were baked into a cake. While the outside may be soft enough to breakdown, the inner core would remain dry and hard.
Final Thoughts
Feeding your betta a balanced diet is crucial for having a healthy betta. It can help them to fight off illness and disease, and aids in extending their life span. If you have the skills and the resources, consider establishing and cultivating your own live food, not only is this a healthier option for your betta, it can also help to reduce costs over the long run. If you are unable to cultivate your own live food, look at using as much fresh food, live or frozen, as possible and not rely too heavily on processed dried foods.